ITA Conservation Projects
We believe conservation is achieved through the sustainable use of natural resources. Based on field work and biodiversity monitoring, we develop strategies to protect and restore ecosystems.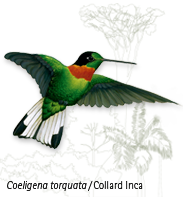 Forest Conservation: ITA manages more than 30,000 acres of Amazonian forests through private conservation areas and forest concessions.
Production Program: Agroforestry and organic production lead the way for a sustainable production that can coexist with the forest.
Biodiversity Monitoring: Increasing our knowledge of key species and learning more about forest ecosystem dynamics, allow us to understand and implement conservation strategies.
More
Inkaterra Blog
An insight to the locations where ITA develops research and conservation programs, experienced through fascinating news and articles.
More
Facebook ITA
Follow ITA's official account for wildlife pictures and videos, and daily updates for conservation projects!
More
Newsletter