"Machu Picchu era… el lugar de descanso favorito para la familia real y la nobleza Inca"    – The New York Times –
La histórica reserve de Machu Picchu es un lugar mágico que fascina por los extensos restos arqueológicos, formaciones geológicas, flora y fauna únicas y el espectacular bosque de nubes. La parte más resaltante the la reserva es la ciudadela de Machu Picchu, una de las 7 nuevas maravillas del mundo.
Experiencias Destacadas
Auténtica elegancia y lujo en blancas casitas y villas ubicadas en un extensión de 5 hectáreas de nuestro Jardín del Edén andino rodeadas de caminos de piedra, lleno de orquídeas y picaflores.
Experimente la maravilla de Machu Picchu y la esencia del lugar de descanso del Inca.
Visite la antigua ciudadela de Machu Picchu, en compañía de un guía certificado.
Una amplia variedad de actividades ecológicas  tales como observación de aves, caminata de orquídeas, visita a las plantaciones de té, charlas sobre la naturaleza del lugar entre otros, ofrecidos dentro del hotel.
UNU Spa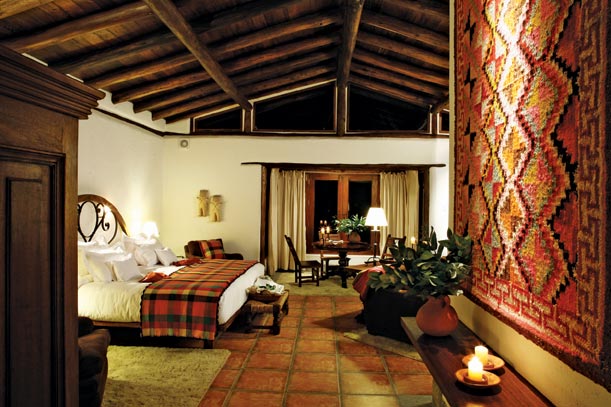 Excursiones
Mandor, una caminata de dos horas, en paralelo al río Vilcanota, sigue la ruta al valle de Mandor.
Putukusi, ascienda la montaña de Putukusi para llegar a la cumbre y admirar la espectacular vista de la ciudadela de Machu Picchu desde un punto lejano, en las alturas del valle de Vilcanota.
Machu Picchu, realice un viaje en bus de 30 minutos al sitio arqueológico de Machu Picchu . Un guía experto lo conducirá por la fascinante Reserva Histórica, proveyéndolo de información geológica e histórica por aquellas zonas arqueológicas más importantes, incluyendo el Intihuatana o reloj Solar, la plaza sagrada, y el templo del Sol.
Machu Picchu and Wayna Picchu, visite la ciudadela histórica de Machu Picchu con un guía privado, seguido de una hora de ascensión a la montaña de Wayna Picchu. La caminata asciende por la arista de la montaña, con una vista completa de Machu Picchu, llevando a los viajeros a un mirador único de la Reserva Histórica.
Apu Machu Picchu, ascienda a la montaña Machu Picchu por dos horas y media, y descubra la cima del Apu Machu Picchu. Esta ascensión, accesible desde la Reserva, forma parte del camino Inca a través de la Puerta del Sol, desde donde se inicia la escalada a la cumbre de esta montaña.