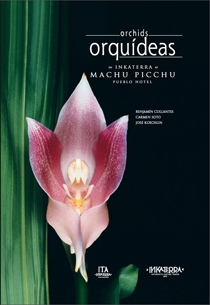 New York, November 29, 2007: Inkaterra, Peru's foremost purveyor of sustainable tourism, recently launched a new book entitled "Orchids in Inkaterra Machu Picchu Pueblo Hotel", commemorating 20 years of in situ (on site) conservation of native orchid species. Situated in Machu Picchu's cloud forest, Inkaterra's Machu Picchu Hotel has 372 species of orchids, the world's largest diversity of native species set in their natural environment.
Stunning raw original photos are showcased throughout the book, including: 178 native orchid species currently at Inkaterra Machu Picchu; 61 new species for the Machu Picchu Historical Sanctuary (SHMP) (which include seven new species, three new varieties and one new name to science); one new genus and seven new species for Peru; four new genera and 38 new records for the SHMP.
Also featured are paintings by Angela Mirro, North American orchid watercolor painter, a rendering of Keferstenia koechlinorum 'Denise', a species deemed new to science by the American Orchid Society and also the orchid symbol of Machu Picchu, and Masdevallia veitchiana, called Wakanki in Quechua or You Will Cry.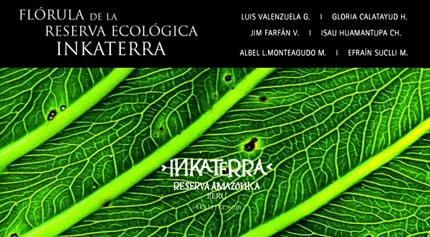 The Flórula de la Reserva Ecológica Inkaterra compiles all currently known vascular species in the Reserve nearby areas, such as Rolin Island, Concepción Field Station (ATI), and Lake Sandoval. We realize that more thorough work or collecting in areas inaccessible to us when we conducted this research, will eventually report new registers for the zone or perhaps species new to science. Nevertheless, this document is the first of its kind for this part of the Peruvian Amazon.
The work consists of two main parts: the introduction and the descriptive flora, which includes 127 families, 593 genera, and 1,266 vascular plant species. We regard this work as an outcome of the mutual interests of both organizations, who seek to apply scientific knowledge to new conservation and sustainable developments initiatives.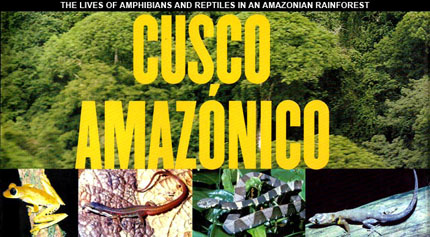 The rainforest in the southwestern part of the Amazon Basin in southeastern Peru are home to scores of amphibians and reptiles. Cusco Amazónico is a richly illustrated and comprehensive account of the lives of 151 of these species. William E. Duellman's masterpiece of community ecology includes descriptions of the physical environment and vegetation found in this unique habitat along with syntheses of abundance, mass, feeding, reproductive guilds, and daily and seasonal patterns of activity. Identification keys in English and Spanish precede detailed and illustrated species accounts. Tadpoles of many frogs are described and illustrated.
Cusco Amazónico will become a standard reference for herpetologist, tropical biologists, biogeographers, ecologists, and conservationists and stands on its own as a portrait of an animal community in a unique bio-region. The illustrations include 236 color photographs, 121 charts and graphs, 16 maps, 42 line drawings, 2 halftones, and 56 sets of audiospectrograms and waveforms. There are 71 tables.