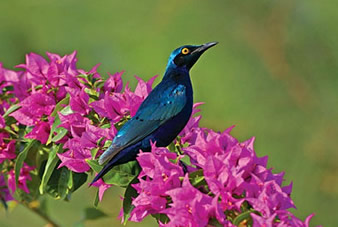 Canopy Walkway and the Anaconda Walk
A five-minute boat ride takes you to the Inkaterra Canopy Interpretation Center. After ascending the first tower, at 29 meters above the forest floor, you will literally walk through the treetops for one-and-a-half hours along suspension bridges that link eight observation platforms. Enjoy landscapes and vistas that would be unimaginable from below, while on the look-out for giant strangler fig trees, orchids, toucans, woodpeckers, trogons and –with luck- monkeys or sloths.
After your descent from the Canopy, experience the Anaconda Walk for about 30 minutes along the 200-meter wooden bridge over the Aguajales swamps. In this lush eco system, you may observe the various species of amphibians, serpents, birds, mammals and abundant flora and trees of this flooded marshland. The walk finishes by returning to the lodge.
DURATION: 1/2 day
DIFFICULTY LEVEL: II
SCHEDULE: Morning and Afternoon
FREQUENCY: Daily
INCLUDED: Canopy kit
ATTRACTIONS: Birds / Photos & Astronomy
RECOMMENDED FOR CHILDREN