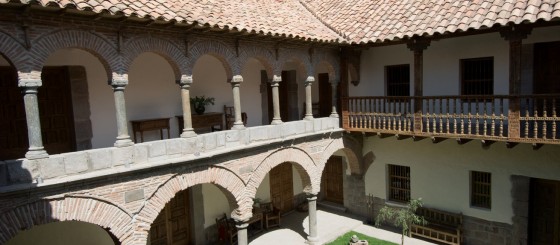 Cusco Cathedral
Cusco square's main attraction, recently refurbished 1560 gothic-renaissance e church and built over one of the most important Inca temples, amazing altars, intricately wood carved pulpits, choir and multitude Cusqueñan art works.
Qorikancha Temple
Former religious and political center in Cusco, residence of the Gods or Huacas in the Inca period, to include several temples: Sun, Moon, Venus and the Stars, Illapa or Chuki Illapa, meaning lightning and thunder and Kùychi or Rainbow.
Sacsayhuaman
One of the most astounding Inca constructions of enormous stones carved and built to a minute precision, most important ceremonial center dedicated to the Sun, where, every 24th of June, the Inti Raymi festival is celebrated as honor to the Sun god.
Puca Pucará, Qenko & Tambomachay
PUCA PUCARÁ, located seven kilometers northeast of the city, its Quechua name meaning "red strength", was a military construction composed of elevated terraces, inner patios, aqueducts, watch towers, high walls and stairways | Q'ENKO, which means "labyrinth", is an Incan temple with underground galleries and small canals made of rocks in zigzag form | TAMBOMACHAY -The name comes from two Quechua words: Tampu, which means a lodging, or inn, and Machay, which means a resting place. One of the favorite baths of the royal Inca, formed by a set of stone structures, aqueducts, waterfalls, springs and thermal sources.
Cusco city Center
Starts with the quaint Plaza de Armas, the recently restored cathedral, located at the Cusco Main Square, Qoricancha or Temple of the Sun, formerly the Inca Empire's richest temple, which later became a Catholic church; traverse narrow cobblestone streets, passing by Inca walls including the twelve-sided stone, finest examples of Inca Architecture and San Blas, the artists' district.
San Blas
Located four blocks from Cusco Main Square, considered as the most colorful and Arts quarter of Cusco. Characterized for its undulating streets that zigzag between the huge colonial houses were built on Inca walls, it is a haven of art displays: gold and silver crafts, stone and wood carvings, sculptures, dolls/dollhouses, masks, ceramics, Cusqueño art paintings, accessories and tapestries with its Saturday Fairs.
Andahuaylillas
At 3198 m.s.n.m., is a small town surrounded by mountains in the left bed of the Vilcanota River. Its main square and San Pedro church built on remains of Inca building with transitional architecture from Inca to Colonial are its most important attractions. Considered as the "Sistine Chapel" of America due its art pieces, murals and ceilings decorated with flowers and gold flakes, San Pedro's magnificent interiors include a majestic piano, paintings from the Art Academy of Cusco, sculptures, baroque high altar carved in cedar wood and decorated with gold flakes, silver tabernacle, gold and silver religious pieces.
Tipon
It is a National Archaeological Park located to the east of the city of Cusco, covering a territory of about 2200 acres, in Oropesa, Quispicanchis, with several royal rooms built by the Inca Wiracocha with walls built of perfectly carved stones, farm area and an impressive irrigation system that is still used in agriculture.