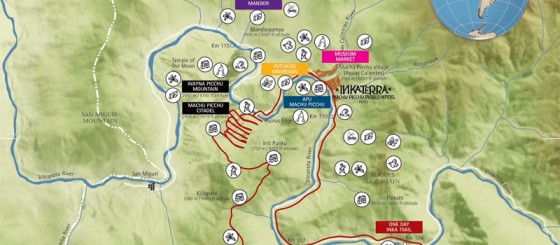 Machu Picchu Pueblo (formerly Aguas Calientes) – Province of Urubamba, Departament of Cusco
Inkaterra Machu Picchu hotel sits on 12 serene acres of natural paradise, just across from the train station of Machu Picchu Pueblo.
Located at 2,450 meters (8,038 ft.) above sea level the hotel occupies a private five-hectare (12.3-acre) mountainside reserve.
112 kilometers (70 miles) from the City of Cusco between the highlands and the rain forest.
Cusco City is 4 hours away by train; recommended route is to travel by car to Ollantaytambo and continue by train for one and a half hours.
It is also possible to walk the Inca Trail on a one-day trip, exploring the archeological remains and return by bus.
Visit to Machu Picchu Citadel
Buses to the Machu Picchu citadel leave Aguas Calientes, beginning before dawn, in 15-minute intervals all throughout the day and the last bus returns at 5:30 pm.