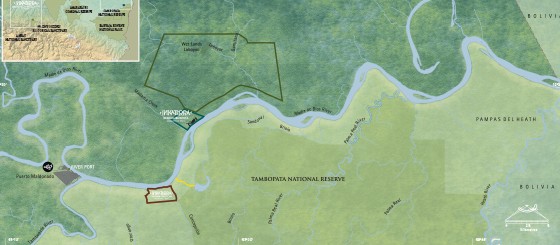 Built in a former cacao and rubber plantation, on the grounds of what was back in the 50's "Fundo Concepción", an Amazon Catholic medical mission center, our children friendly lodge is located in an enchanting and serene lush setting within 819 hectares of natural rainforest. The rainforest acts as a buffer zone between the Tambopata National Park Reserve and the shores of the vast Madre de Dios river, making the location of this new lodge quite unique and wonderfully remote.
Located only 8 kilometers / 20 minutes down river from Puerto Maldonado, Hacienda Concepcioón can only be reached by taking a scenic canoe ride from the town.
Pristine, remote, yet easily accessible.
A welcoming haven situated at the heart of a 17,000 380 hectare-private ecological reserve (42,008-acre 439 acre), only a 25-minute flight from Cusco.
 Daily flights from Lima via Cusco to Puerto Maldonado, gateway city.