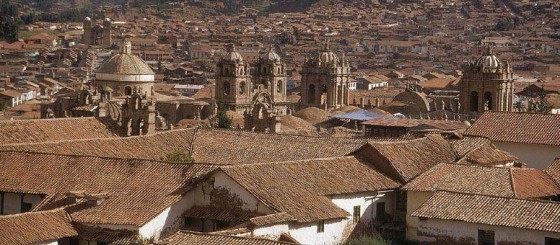 There are several ways to travel and depart from Cusco which connects to the other important destinations in Peru, such as Lake Titicaca, Machu Picchu and Sacred Valley. It can be accessed by car or plane from Lima, and by car, plane or train from Lake Titicaca and Arequipa.
By Plane
Cusco is over 1000 kms. away from Lima at 3,400 meters (11,152 ft) above sea level. The Cusco Airport, 10 minutes from the hotel, is served by hourly flights from Lima or daily flights from Puno, Arequipa, Puerto Maldonado and La Paz.
From Lake Titicaca
By Rail
One can travel via train from Cusco to the Lake Titicaca to and from the San Pedro Train Station. On the first half of the journey, dominated by the magnificent Andean mountains which tower over the deep valleys of the meandering Huatanay River and then reaches the gentler, rolling Andean Plains, where vicuña and alpaca can be seen. The journey is broken by a scenic stop at La Raya, which is also the highest point on the route. Travelers can choose to travel on either the first class carriages of the Andean Explorer or Backpacker carriages.
By Car
By car one can reach or depart Cusco to and from Lake Titicaca via the southeast highway with many interesting places along the route, to include Andahuaylillas, Piquillacta, Racqhi, Sicuani, the La Raya Pass, the highest highway at 4,330 meters above sea level.
From Machu Picchu
Vistadome
One can take the Vistadome Service of Peru Rail in carriages with panoramic windows enhancing scenic views and photographic moments. During the journey Snack is provided. Via Ollantaytambo or San Pedro Station in Cusco.
Hiram Bingham
The train arrives and departs from Cusco (Poroy) taking a spectacular journey through a changing landscape while guests enjoy brunch.PERU RAIL NOTICE. If you are going to Machu Picchu, please take note that Peru Rail has imposed luggage limitation on the train to Aguas Calientes. Peru Rail Luggage Transport is a maximum hand-carried allowance of only 5 kilos/11 lbs. and measuring not more than 62 inches/157 cm (height, length & width) per passenger. Your heavier and bigger baggage may be transported in another train at an extra cost (US$1.80/kilo, one way, maximum 10 kilos) or may be left for storage at Peru Rail's Luggage Storage only in Ollantaytambo Train Station at US$5.00/day.
From sacred Valley
Aside from Peru Rail via Ollantaytambo, from Sacred Valley, there are two highways to reach Cusco, one via Pisac passing through the towns of Urubamba, Yucay, and Calca to reach or the northwest route via Chinchero passing the access roads to Maras and Moray and to reach Cusco.
Terrain
Cobblestone city streets, undulating winding roads, uneven terrain in ruins and temples and some rural and mountainous environment all throughout. Many people may need time to adjust to the altitude of 3,310 m (10,857 ft) a.s.l.